Blog
Posted by Liz Downey on

This year, we put together a gift guide for foodies with our favorite items from our own kitchen. These are all things that we love and use (or eat) often. With a range of prices, you're sure to find something for the person who loves to cook, or just enjoys good food.
Posted by Liz Downey on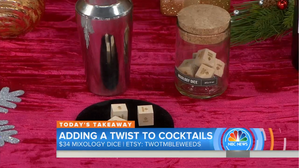 Mixology Dice was featured this morning on the Today Show! Grab a set for your next holiday party:Shop Mixology Dice >>
Posted by Liz Downey on
When we started cooking with
Foodie Dice
, we would sometimes come up with new recipes that we
re worth recording, but we didn't have a good place
 to write them down. So we created recipe cards for ourselves, and now we want you to have them, too!
Posted by Liz Downey on
Most of the time when we roll our Mixology Dice, we don't use all of the ingredients. But in the hands of a skilled mixologist, like Christine Dionese, it's possible to create a drink that melds all of the flavors into a unique cocktail.  Ingredients 1 1/2 oz Whiskey1 splash Royal Rose Organic Rose Simple Syrup + dab for glass rim3/4 oz Carpano Antica Vermouth2 oz fresh squeezed Valencia orange juice5 red cherries 3" sprig fresh rosemary1 small, sweet red chili with seeds chopped 1/4 tsp cracked rainbow peppercorn for glass rim InstructionsIn a short, thin rocks glass, dab a small drop of Rose...
Posted by Liz Downey on
Try this healthy, easy recipe for a quick weeknight meal.
The Roll:
pan fry / fish / quinoa / cilantro / fennel / mushrooms
---